English version below
Madrid Popfest 2020 (13 y 14 de Marzo 2020) 
¡Llega la 10ª edición del Madrid Popfest!
Ya se conocen el cartel completo del Madrid Popfest 2020. Para esta edición tan especial que tendrá lugar, como ya es habitual, en la Sala Galileo Galilei de Madrid, en las sesiones de noche, y en una nueva localización para la sesíon vermú: el Centro Cultural Galileo los días 13 y 14 de Marzo de 2020.
Como cada año desde 2011, desde una perspectiva totalmente DIY (sin ánimo de lucro, sin patrocinadores y autogestionada), vuelve el indiepop a Madrid.
El cartel se compone de siete artistas internacionales y siete nacionales:
Viernes 13 de Marzo (Sala Galileo Galilei)
Sábado 14 de Marzo, sesión Vermú (mediodía, Centro Cultural Galileo)
Sábado 14 de Marzo (noche, Sala Galileo Galilei)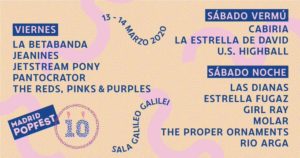 Una de las novedades de este año será la edición de un vinilo conmemorativo en formato 10″ que contendrá las sintonías que año a año han anunciado la llegada y las actuaciones del festival, compuestas por diez artistas diferentes.
Los abonos y entradas de día ya están disponibles en entradium.com y existen varias opciones:
Don't stop indiepop!
——-
Madrid Popfest 2020 (13 & 14 de March 2020) 
Madrid Popfest 10th edition is here!
The final line up for Madrid Popfest 2020 has been announced. The 10th anniversary edition of the festival will take place, as usual, in Sala Galileo Galilei, and for the first time this year the vermú session (saturday at noon) will taake place in Centro Cultural Galilego on the 13th and 14th of March 2020.
As always since 2011, Madrid Popfest is organized with a DIY philosophy (non-for-profit, no sponsors and self-managed), bringing the best of indiepop to Madrid.
This year's line up includes seven international acts and seven spanish:
Friday 13th March (Sala Galileo Galilei)
Saturday 14th March, Vermú session (noon, Centro Cultural Galileo)
Saturday 14th March (evening, Sala Galileo Galilei)
As a celebration for the special ocassion we'll release a conmemorative 10″ vinyl incluiding all the songs written specially for the festival that 10 different bands have written to announce each year's edition.
Two-day and single day tickets available now in entradium.com in two options:
Two-day tickets + vinyl – 44 €
Two-day ticekts – 35,50 €
Don't stop indiepop!