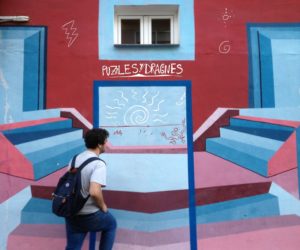 Si el indie-pop ha sido un género asimilado y regurgitado por la maquinaria de la tendencia, ahora ya podemos empezar a disfrutar del POP. Una de las características de este grupo es que les sobra cultura anglosajona (por familia y procedencia de la mayor parte de sus miembros).  Sin embargo, ellos miran a España como contexto cultural, al contrario que la mayorìa de grupos españoles de indie pop. Entrelazados con esa escena que ha fraternizado a los grupos por su contexto y su actitud más que por su estilo, Puzzles y Dragones se generaron en el mismo caldo de cultivo que formaciones como Alborotador Gomasio, Hazte Lapón o El Pardo.
Después de publicar su primer EP con Discos de Kirlian y de haber tocado en algunas de las iniciativas más colaborativas del underground como Madrid Radical, la Resistencia, el Campamento Base o el Zaragoza Popfest, ahora se preparan para publicar su primer larga duración y estrenar nueva formación.
—-
If indie pop has always been assimilated and regurgitated by the coolness industry, now it's time to start enjoying POP. One of the main characteristics of this band is that they have plenty of anglo culture (coming from their family and their origins of part of their members), but they still look to Spain as their cultural context, as opposed to most spanish indie pop bands. Intertwined in this scene that has matched bands mostly basing on their context and attitude, rather than their style, Puzzles y Dragones were formed in the same breeding ground as bands such as Alborotador Gomasio, Hazte Lapón or El Pardo.
After releasing their first EP in Discos de Kirlian, and playing with some of the most collaborative underground circuits such as Madrid Radical, La Resistencia, Campamento Base and Zaragoza Popfest, now they're ready to release their first full album and present their new line-up.