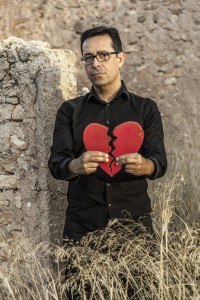 Al tomar el testigo del Madrid Popfest, una de las cosas que todos tuvimos clara y que no dio lugar a la más mínima discusión, fue la ilusión que nos haría a todos contar con Parade en la primera edición de esta nueva época. Dicho y hecho. Antonio Galvañ ya estuvo presente en la edición de 2012, en aquella ocasión presentando su contribución a la colección de 7" Dedicatessen, de Jabalina, una maravilla dedicada al Studio Ghibli ("Parade en el Studio Ghibli", Jabalina 2012). En esta ocasión también tendremos la suerte de disfrutar de un estreno, nada menos que su octavo disco de estudio. Pocos compositores españoles pueden enorgullecerse de una discografía tan extensa y variada en estilos y con tanta calidad como la de Parade.
El Universo Parade es fascinante tanto en lo musical como en lo literario. En lo musical, cada disco nos sorprende introduciendo nuevos estilos. Desde sus inicios con un sencillo y encantador pop electrónico, ha ido añadiendo cada vez más instrumentación real para pasar por el pasodoble y el bolero, el vals, la canción ligera o la chanson francesa, y en definitiva el pop en mayúsculas. En cuanto a las letras, las encontramos inundadas de referencias a la cultura popular. Principalmente la ciencia ficción, pero también a muchos otros iconos de la música, el cine, los comics y la literatura. En esta edición del Madrid Popfest, seremos testigos de cómo sigue extendiéndose el Universo Parade.
—-
When the new organization took over to organize Madrid Popfest, one of the first things we all agreed with no discussion at all was that we'd all love to count with Parade as part of the first edition of this new era. Said and done. Antonio Galvañ was already present in 2012 edition, in that occasion presenting his contribution to Jabalina's Dedicatesen 7" collection. A wonderful single dedicated to Studio Ghibli ("Parade en el Studio Ghibli", Jabalina, 2012). This time, we'll also have the pleasure of enjoying a new presentation. Nothing less than his eighth studio album. Few spanish composers can be proud of such a long and diverse discography, always with the highest quality standards.
Parade's Universe is fascinating, both in a musical and lyrical sense. Talking about music, each record brings a new range of styles. From his debut with a simple and lovely electronic pop, Antonio has added more and more real instruments whilst moving through styles such as pasodoble and bolero, vals, easy listening and french chanson. And, overall, great pop music. Parade's lyrics are full of references to popular culture. Mainly science fiction, but also lots of other icons of music, cinema, comic books and literature. In this edition we will witness the continuous expansion of Parade's Universe.