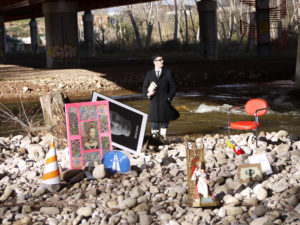 "Saliendo de la nada hemos alcanzado las más altas cotas de miseria"- Groucho Marx
Sagrado Corazón de Jesús nace de una necesidad por parte de Jesús Fernández López de sacar a la luz determinadas canciones que, o no entraban en Táctel -grupo a reivindicar que comparte con los también norteños Izaskun y Nacho SSP – o que, en una peculiar travesía del desierto de incontinencia compositora, le llevaban a hablar del Waters de "Female Trouble", de distopías dolorosamente presentes o de actualizaciones con símiles cinematográficos del "Odio" de Alaska y los Pegamoides ejemplificados en gremlins que se inmolan al sol o zombies que rechazan comer carne del ser repudiado.
Sin embargo, bajo ese barniz de supuesta intrascendencia, y con un inmenso caudal melódico, se esconde uno de los mejores cantantes y letristas de este país. Cada vez más depurado, críptico pero a la vez universal, va desgranando las incongruencias de la vida contemporánea, esa que nos ha tocado vivir.
Sagrado Corazón de Jesús, o mejor dicho Jesús junto con su hermana Judit, cada vez más presente en este proyecto que nació unipersonal, es un habitual del Madrid Popfest desde hace varias ediciones. Siempre como público y siempre en primera fila. Esta vez le va a tocar subir a las alturas y predicar con sus canciones haciéndonos disfrutar y bailar pensando
¡Vamos!
—-
"I worked my way up from nothing to a state of extreme poverty" – Groucho Marx
Sagrado Corazón de Jesús was born from Jesús Fernández López's need to bring to light some songs that did not fit in Táctel – a band to be vindicated that also comprises northerners Izaskun and Nacho SSP – or that, during his dessert crossing journey of writing frenzy, led him to talk about Waters' "Female Trouble", painfully present dystopias or cinematographic updates of Alaska y los Pegamoides' "Odio". All exemplified in gremlins immolating under the sun or zombies refusing to eat meat. But, under this alleged irrelevant vision, and with a giant melodic power, you can find one of the best singers and lyricist in Spain. Becoming more and more elaborate, cryptic but at the same time universal, Jesús describes the incongruencies of contemporary life.
Sagrado Corazón de Jesús, or in other words Jesús and his sister Judit (who is more and more present in this project originally intended as a solo project), have been a frequent presence in Madrid Popfest all this years. Always as audience in the first row. This time, is their turn to be up the stage and make us have fun with their songs and dance whilst thinking "let's go!"