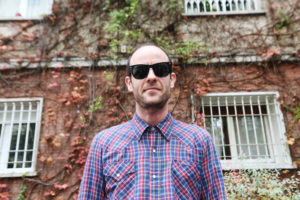 El proyecto de Hugo Sierra, bien reconocido en la escena madrileña y nacional por su paso por bandas como Prisma en Llamas (que formaron parte del cartel de Madrid Popfest 2013) o la banda de punk Margarita, no cesa en su consolidación. Con un, hasta ahora, único trabajo publicado «Tiene mucha fuerza» (coeditado por Tormina Records y Gramaciones Grabofónicas) y concierto tras concierto, consigue generar una vinculación afectuosa, personal y grupal, que Lidia Damunt describió brillantemente como:
«Con un espectro de influencias que va desde Colin Newman y Julian Cope hasta los primeros Depeche Mode y los The Cure más directos, los textos se vuelcan aquí como golpes de sinceridad iluminada. Quedan atrás las metáforas y textos crípticos para dar paso a emociones lúcidas y temas locales. Hay vocación de comunicación directa. Hugo siempre ha sido un mago para las melodías, pero hasta ahora y no conocía su faceta de cantante, no como ahora, donde su voz es más expresiva que nunca y consigue emocionar y transmitir con cada palabra como si fuera la verdad última.
Sierra acaba de crear su propio camino como artista creador de gemas de pop cristalino y apasionado, apoyado por una instrumentación sencilla y directa. La expresión "verdades como puños" le viene que ni pintada»
En directo le acompañan Clara Collantes (El Día Después), Arturo Hernández (Juventud Juché) y Antonio Castro (Charades).
—–
Hugo Sierra's project, a well-known presence in the local and national scene after being part of bands such as Prisma en Llamas (that were present in Madrid Popfest 2013), or the punk band Margarita, continues to develop and settle. With just one published record ("Tiene mucha fuerza", co-edited by Tormina Records and Gramaciones Grabofónicas), show after show has created a personal and friendly relation with the audience, as Lidia Damunt (Hello Cuca) brilliantly described:
«With influences ranging from Colin Newman and Julian Cope to the origins of Depeche Mode and The Cure, lyrics are exposed as enlightened strokes of honesty. Metaphors and cryptic lyrics are left in the past, giving way to lucid feelings and local themes. There is direct communication vocation. Hugo has always been a melody wizzard, but his singing ability has never been as prominent as it is now. His voice is more expressive than ever and it transmits every word as if it were the ultimate truth.
Sierra just created his own way as an artist creator of crystalline gems and passionate pop, supported by a simple, straightforward instrumentation. The term «home truths» suits perfectly»
Sierra's live band includes Clara Collantes (El Día Después), Arturo Hernández (Juventud Juché) y Antonio Castro (Charades).