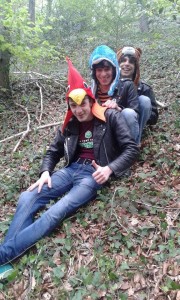 Los Animalitos, para el que aún no lo sepa, provienen de Ripollet. Nos bastó con ver una de sus actuaciones para caer rendidos a sus pies. Musicalmente recuperan ese espíritu de grupos como Terry IV, Los Vegetales…es decir, cuando el Pop significa diversión, ficción y mucho pero que mucho ingenio…esas fantasías animadas que a día de hoy nos resultan imprescindibles. Sus canciones y sus letras son un macromundo donde habitan un sinfín de referencias clásicas del»punk» conectadas con el manga japonés…En directo no tienen prejuicios a la hora de hacer una versión de Sigue Sigue Sputnik, una sintonía de dibujos animados, series de televisión, pasando por Federico y Terry, los Nikis, los Calatrava o los mismos Regaliz.
Los Animalitos del Bosque son Castro (descendiente de un mapache/ guitarra), Fisky (hermano de los monos/bajo) y Mark (híbrido de un pingüino y una roca lunar/batería) y hacen las mejores canciones desde Ripollet a Saturno.
—
If there's someone out there who does not know yet, Los Animalitos come from Ripollet. One show was enough to fall surrendered at their feet. Musically, they recover the spirit of bands like Terry IV, Los Vegetales… in other words, when Pop means fun, fiction and much, much wit… these animated fantasies that as of today are indispensable. Their songs and their lyrics are a new world where endless classical punk references inhabit, connected with Japanese manga … In their crazy shows they don't have any problem in covering the likes of Sigue Sigue Sputnik, cartoons theme tunes, television series, Federico y Terry, Los Nikis, the Calatrava brothers or Regaliz.
Los Animalitos del Bosque are Castro (descendant of a raccoon / guitar), Fisky (brother of monkeys / bass) and Mark (hybrid of a penguin and a moon rock / drums) and make the best songs from Ripollet to Saturn.