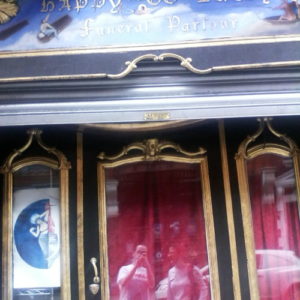 Carmen lloraba demasiado durante los primeros meses en Mánchester, así que decidió
colgar un papel en una tienda de instrumentos del centro porque, qué demonios, era
Mánchester. Afortunadamente, Simon Gilbert decidía aquella tarde abandonar su suburbio para comprarse un amplificador. A partir de entonces se sucederían los ensayos en el jardín, las sesiones de grabación en casa de John Wilkes, las visitas al Salford Lads Club y los arrebatos directos en el pub. Con Marine Girls en el corazón de todos y la incansable abogacía de Carmen por Le Mans en el país del pop, el sonido de Rubella ha ido definiéndose cada vez más.
—
Formed out of a chance meeting in Manchester, Rubella consist of Carmen Rus (Voice & Reason), Simon Gilbert (Songwriter/Guitarist), Adam Marsden (Percussion/Drums) and John Wilkes (Production & Voice).
Formed, playing live and recording music for over one year, Rubella have focused on
relighting the traditional sound of C-86 jangly indie guitars with many offerings of simple
yet honest pop songs. Rubella is 100% Mancunian sound with a bit of Marine Girls and
a twist of Spanish Le Manesque style. Be kind to us, we might be a little bit too sensitive
for you.