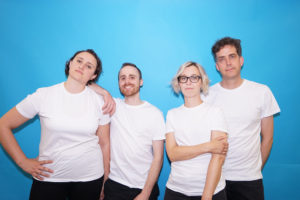 Chorusgirl hacen noisepop, mezclando los sonidos de Lush, The Cure, The Breeders, Pulp, The Bangles, surf, girl groups, melodías, jangle y ruido en un trepidante torbellino que da vueltas en tu cabeza hasta que terminas mareado. Las letras son personales, delicadas y llenas de furia, sobre perder y rendirse, pero en todas el sufrimiento y enfado está oculto bajo el suficiente ruido y sonidos alegres.
El grupo es la criatura de Silvi Wersing y su nombre hace referencia al hecho de que pasó años como bajista de los sueños de otros, hasta que decidió que las coristas introvertidas podían, e incluso debían, llevar la voz cantante. Comenzó a escribir canciones, cogió la guitarra rítmica y reclutó a unos amigos para su nueva aventura con cuartel general en Londres: Udo Westhoff al bajo, Michael Boyle en la batería y Fatih Taylor en la guitarra solista.
Chorusgirl tocaron por todo Londres y el Reino Unido en 2014/2015, y en Hamburgo en Noviembre de 2014 por primera vez fuera de casa. Publicaron un 7″ como parte del 100 Club Series de Odd Box Records en primavera de 2015, que se vendió en tan sólo dos semanas.
Después de triunfar en el Indietracks, firmaron por el sello londinense Fortuna POP! en verano de 2015, para editar su primer disco homónimo el 13 de Noviembre de 2015 con una gran acogida de la crítica. El primer single «Oh, To Be A Defector» entró directamente en las listas de canciones de BBC Radio 6 y el disco apareció en varias listas de lo mejor del año.
2016 ha visto al grupo tan ocupado como siempre, publicando más singles, videos y con conciertos en Reino Unido, Alemania, España, Suecia, Francia y EEUU.
—-
Chorusgirl make noisepop, blending the sounds of Lush, the Cure, The Breeders, Pulp, the Bangles, surf, girl groups, melodies, dirt, jangle and noise into a swirling & shimmering mix that spins your head until you're dizzy. The lyrics are personal, delicate and angry, about losing and giving up, but all of that heartache and anger is layered underneath enough noisy rubble and happy fizz.
The band is Silvi Wersing's brain child and the name references the fact that she spent years being a bassist to others' dreams, until deciding that introverts and chorus girls could and perhaps should front their own shows. She started writing songs, moved on to rhythm guitar and recruited friends to her new London-based venture: Udo Westhoff on bass, Michael Boyle on drums and Faith Taylor on lead guitar.
Chorusgirl played gigs all over London and the UK in 2014/2015; a gig in Hamburg in November 2014 marked the beginning of the band venturing out of their home town. They released a 7" as part of the Odd Box Records 100 Club Series in spring 2015, which sold out within 2 weeks.
After a triumphant Indietracks festival appearance, they were signed by London-based label Fortuna POP! records in the summer of 2015. Fortuna POP! went on to release Chorusgirl's eponymously titled debut album on 13th November 2015 to great critical success. The first single 'Oh, To Be A Defector' was immediately playlisted by BBC Radio6, and the album found itself on many end-of-year lists.
2016 will keep the band as busy as ever, with the release of further singles, music videos and the band playing the UK, Germany, Sweden, France and the US.