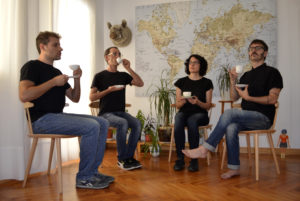 Para muchos serán un descubrimiento. Los logroñeses , Víctor, Miryam, Eduardo y Fernando, son Pan Total. Lo suyo es el pop de un trasfondo oscuro deudor de los ochenta, con ecos del post-punk y new wave.
Su CD autoeditado «Románticos no» (2013), llamó la atención de algunos interesantes blogs nacionales. Fruto de ese interés participan en la primera fiesta de las Veladas Está Pasando y en el single de 7″ editado para la ocasión. Este verano un mecenas anónimo editó en CD «Suena como suena», las canciones del del grupo seminal de Pan Total, llamado La Pantaloneta. Ganadores del concurso Autoplacer 2015, preparan durante este invierno su primer LP.
Han tocado sus canciones en diversas ciudades, en salas como Siroco, Dabadaba o La Central de Callao.
—-
Some of you may not have heard of them. Coming from Logroño, Víctor, Miryam, Eduardo y Fernando are Pan Total. They do pop songs if a dark touch inspired by the 80s, bringing back memories of post-punk and new wave.
They debuted with a self-released CD in 2013, «Románticos no», which atracted the attention of several blogs in Spain. As a result of that interest, they played in the first Veladas Está Pasando party and in the 7″ released for the event. Last summer, an anonymous sponsor released in CD «Suena como suena», including songs by Pan Total's seminal group La Pantaloneta. After wining Autoplacer's contest in 2015, they are currently working in their first LP.
They've played around Spain, including venues such as Siroco, Dabadaba and La Central de Callao.