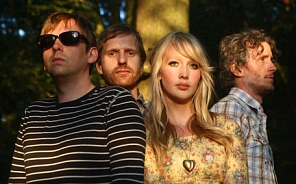 The Clientele nacieron en Hampshire en 1997, alejados de cualquier escena musical. James, Mark y Alasdair ya compartían en el instituto su fascinación por la extraña magia de Galaxie 500 o Felt pero también por el pop psicodélico de Love o The Zombies. Trasladados a la universidad, conformaron una de las bandas más bellas de las que se puede hablar al referirnos a la atemporalidad del pop artesanal que persiste a cuantas modas preparadas y pasajeras pueda pretender imponer la industria. The Clientele están entre esas bandas que son capaces de ofrecer un sonido propio y claramente identificable, lleno de reverb y con la inconfundible voz de Alasdair.
Con una carrera impecable a sus espaldas, tras un parón en 2011, el aire retro de sus canciones, su atmósfera cortante y sus deliciosas melodías en un frasco de lo-fi volvieron a sonar en 2014 en Estados Unidos, donde sus seguidores son legión. Desde entonces, son escasas las ocasiones en las que poder disfrutar de The Clientele en Europa. En Madrid Popfest 2017 podremos disfrutar de su primer concierto en España desde 2011, y a buen seguro será algo especial e intenso.
—-
The Clientele were born in Hampshire in 1997, playing together as kids at school, remote from any kind of music scene, but hypnotized by the magical strangeness of Galaxie 500 and Felt and the psych pop of Love and the Zombies. Moving to college, they formed one of the most beatiful music bands if you think of atemporal crafted pop that survives over the usual hypes and trends the industry sells you. The Clientele are among those bands that are capable of delivering a unique personal sound, easy to identify, full of reverb and Alasdair's unmistakable voice.
After a faultless career, they stopped in 2011. But in 2014, the US (where they have a big cult following) had the luck of witnessing how they brought back their retro-sounding songs, their piercing atmospheres and their wonderful melodies in a lo-fi wrapping. Since then, opportunities to see them in Europe have been scarce. In Madrid Popfest 2017 we will enjoy their first gig in Spain since 2011 and it will surely be something special and intense.