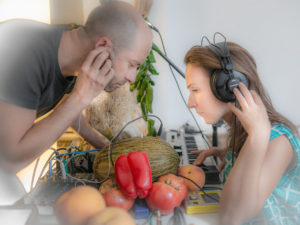 Espanto llevan ya once años en el panorama musical español como San Borondón, isla del archipiélago canario de misteriosa aparición y desaparición. Y es en cada una de estas emersiones cuando la visita a los nuevos lugares/canciones que resurgen, donde todo nos resulta familiar pero al mismo tiempo extrañamente nuevo.
Desde el costumbrismo inicial que les emparentaba con Vainica Doble (recurso fácil al ser dos y utilizar el lenguaje más allá de los lugares comunes), Espanto han ido a lo largo de estos años evolucionando a través de su discografía a un lugar propio en el cual cada disco tiene una temática común sobre la cual gravitan las canciones: de las relaciones humanas del "Isimos" (Astrohúngaro, 2008) a la llamada de la naturaleza y lo salvaje del "Fruta y Verdura" (Astrohúngaro, 2016, un homenaje en su título a uno de los discos de la gran Mina), pasando por su particular visión sobre el "Rock´n Roll" (Astrohúngaro, 2012). Todo esto pasado por el filtro de Espanto. Es decir la visión de Luis y de Teresa. Porque "Espanto es Teresa, es Luis"
Este año podremos disfrutar de una de sus escasas actuaciones en directo, en la cual prometen darnos una nueva visión de sus canciones.
—-
Espanto have been around in the Spanish musical scene for eleven years, initially as San Borondón, island of the Canary Islands that, people say, appears and disappears mysteriously. And it is in each of these emersions when the visit to new places /songs resurface, where everything is familiar but at the same time strangely new.
From the initial costumbrism that linked them to Vainica Doble (easy reference since they're also two members and use language beyond common places) Espanto have gone through the years evolving in each record to a place of his own in which each album has a common theme upon which every song gravitates: the human relations in "Isimos" (Astrohúngaro, 2008), the call of nature and wild in "Fruta y Verdura" (Astrohúngaro, 2016, a homage in its title to one of great Mina's records), passing through their particular vision of el "Rock´n Roll" (Astrohúngaro, 2012).. All this filtered by Espanto. In other words, the vision of Luis and Teresa. Because "Espanto is Teresa, it's Luis."
This year we will enjoy one of their few live performances, in which they promise to give us a new vision of their songs.