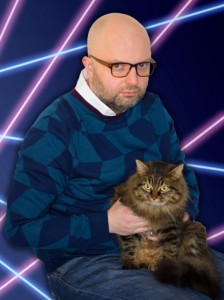 El sonido de Rodney Cromwell ha sido comparado al synthpop de los 70 y 80 de Kraftwerk, OMD, Section 25 o New Order, y asimilado a «retro futuristas» contemporaneos como Ghostbox Records. A nivel de letras se le compara con el ingenio sardónico de John Grant.
Proveniente de Catford, en el sur de Londres, Rodney Cromwell es el proyecto en solitario de Adam Cresswell, miembro fundador de la banda de indie-folktronica SALOON (que tuvo  cuatro entradas en la lista de John Peel de las 50 canciones más festivas, incluido el nº1 en  de 2002, y registró tres sesiones del programa de Peel) y mitad del dúo electrónico ARTHUR &  MARTHA (aclamado por los NME, The Guardian y Artrocker). En su ultimo LP, la cantante Alice Hubley (ARTHUR & MARTHA, COSINES) también aparece en el dueto «You Will Struggle».
En el verano de 2015, Rodney Cromwell hizo su debut en festivales como el Indietracks y fue excelentemente bien recibido. Ahora con banda, y tocando sus sintetizadores reventados, está llevando su pop electronico y melódico a nuevas audiencias.
​—-
Rodney Cromwell's sound has been compared to the 70′ and 80's synthpop made by the likes of Kraftwerk, OMD, Section 25 and New Order, as well as to contemporary 'retro futurists' such as those on Ghostbox Records. Lyrically he has been compared to the sardonic wit of John Grant.Hailing from Catford in South London, Rodney Cromwell is the solo project of Adam Cresswell, founding member of indie-folktronica band SALOON (who had four entries in John Peel's Festive 50 including No1 in 2002 & recorded three Peel Sessions) and one half of electronic two-piece ARTHUR & MARTHA  (acclaimed by the likes of NME, The Guardian and Artrocker). On this new LP, singer Alice Hubley (ARTHUR & MARTHA, COSINES) also features on the duet 'You Will Struggle'.
​
In Summer 2015 Rodney Cromwell made an incredibly well-received festival debut at Indietracks and, with his band and knackered synths, is now taking his melodic electronic pop to new audiences.