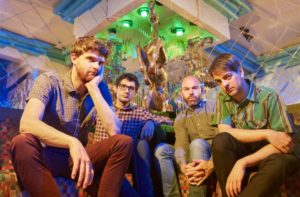 Semanas después del Madrid Popfest 2017 llegaba a nuestras vidas 'Dos caballos', el tercer álbum de los madrileños Cosmen Adelaida. "Contra la pared", adelanto del disco, ya dio una idea de por dónde irían los tiros en este trabajo: más oscuro, más psicodélico, más ochentero, pero igual de emo y nostálgico que siempre.
Contaron para la grabación con el productor Paco Loco, quien dice de ellos que "fueron pioneros en esto de la nueva regeneración del pop en España. Fue uno de los primeros grupos jóvenes que recuperaron la tradición de grupo".
Entre sus influencias musicales destacan Magazine, Echo and the Bunnymen o Ariel Pink. Pero más importantes son sus influencias vitales, que convierten sus canciones en metáforas que muchos de nosotros podemos hacer nuestras y cantar cual grito de guerra al amor y a las reticencias de hacerse mayor.
Las canciones de Cosmen Adelaida vienen desde dentro y esa fuerza visceral se siente en el directo de Javier Egea, Ignacio de la Hoz, Marcos Domínguez y Seán Lynam, actual formación de la banda. Desde su primer EP en 2009 y pasando por los tres álbumes publicados por El Genio Equivocado, han tocado en Primavera Sound, Sonorama Ribera, Contempopránea y el FIB. ¡Ya era hora de disfrutarles en Madrid Popfest!
—
Weeks after Madrid Popfest 2017, "Dos caballos" came to our lives, Cosmen Adeaida's third album. "Contra la pared", the album advancement, already gave an idea of the direction their sound was taking: darker, more psychedelic, 80's influenced pop but just as emo and nostalgic as ever.
They relied on Paco Loco to produce the album, who said of them that "they were pioneers of a new regeneration of pop in Spain. It was one of the first youth groups to recover the group tradition".
Their musical influences range from Magazine to Echo and the Bunnyment or Ariel Pink. But the most important influences are their vital ones, which make their songs metaphors that many of us can do our own and sing as a battle cry to love and the resistance to get old.
The songs of Cosmen Adelaida come from deep inside and that visceral force can be felt in the live shows by Javier Egea, Ignacio de la Hoz, Marcos Domínguez and Seán Lynam, their current line-up. Since their first EP in 2009 and through three published albums by El Genio Equivocado, they have played at Primavera Sound, Sonorama Ribera, Contempopránea and FIB. It's time to enjoy them at Madrid Popfest!