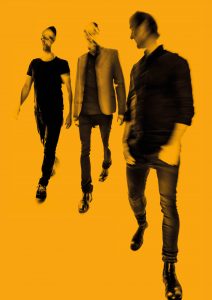 Muchos de nosotros no habíamos olvidado a Eggstone cuando, en Abril de 2016, nos sorprendieron con su primera canción en 19 años, "Like so". Una estupenda canción, por cierto. A esta sorpresa le siguieron varias actuaciones en directo en Suecia y Dinamarca. Teniendo en cuenta que fueron uno de los mejores grupos de pop sueco en los 90, no podían ser mejores noticias.
Formados en 1986 por Per Sunding (voz, bajo), Patrik Bartosch (guitarra) y Maurits Carlsson (batería) en Lomma, a las afueras de Malmö, pubilcaron su primer disco en 1992 ("Eggstone in San Diego", Snap, 1992), producido por Tore Johansson (actualmente un productor internacionalmente conocido). A este lo siguieron otros dos discos ("Sommersault", Soap en 1994 y "Vive la Difference", Vibrafon en 1997) justo antes de desaparecer. Dos recopilatorios en Siesta y Tricatel sirvieron como carta de presentación para convertirlos en banda de culto entre cada vez más fans.
Las canciones de Eggstone son mucho más que grandes melodías pop. Sus canciones están llenas de detalles, cambios de ritmo y arreglos que las hacen fascinantes. En una primera escucha, puedes pensar que son canciones directas y sencillas, pero si escuchas con más atención, podrás apreciar el trabajo de tres grandes músicos en su mejor momento. Se dice que estaban preparando un cuarto disco a finales de los 90, pero puede que estuvieran demasiado ocupados escribiendo y grabando como músicos, productores o arreglistas para otros grupos, algunos de los cuales alcanzaron la fama que injustamente nunca llegó para Eggstone. Por lo menos, estamos seguros de que el público de Madrid Popfest sabrá mostrarles todo el cariño que se merecen.
—
Some of us had never forgotten Eggstone when, in April 2016 we were surprised by their first song in 19 years, "Like so". A great song, by the way. This surprise was followed by some live appearances in Sweden and Denmark. Being one of the best Swedish pop bands from the 90s, this was wonderful news.
Formed in 1986 by Per Sunding (vocals, bass), Patrik Bartosch (guitar) and Maurits Carlsson (drums) in Lomma, outside Malmö, they released their debut album in 1992 ("Eggstone in San Diego", Snap, 1992), produced by Tore Johansson (now an internationally renowned producer). This was followed by two more records ("Sommersault", Soap in 1994 and "Vive la Difference", Vibrafon in 1997) before disappearing. They gained an even greater cult following by the publication of two compilations in Siesta and Tricatel that were an excellent presentation card for the band.
Eggstone's songs, are much more than great light pop tunes. They are filled with details, tempo shifts and arrangements that made them fascinating. At first listen, they may seem simple and direct, but when listening more carefully you will hear the work of three great musicians at their best. A fourth album has reportedly been in preparation since the late 1990s, but it looks like they've been too busy writing and recording as musicians, producers or arrangers with many other acts, some of which achieved a fame that Eggstone also deserved but never got. At least, we are sure Madrid Popfest audience will show them all the love they deserve.