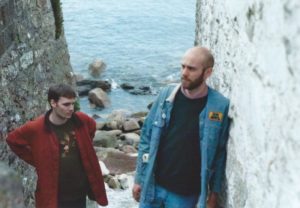 The BV's se formaron en 2016, cuando el guitarrista Fred Jehle del grupo Endlich Blüte se mudó de Alemania a Inglaterra en un programa de intercambio universitario. Allí conoció a Josh Turner, y dos semanas antes de que Fred regresara a Alemania, los dos comenzaron a escribir canciones y grabar demos en el salón de su casa compartida en Falmouth, Cornwall.
Para maximizar el tiempo que estaban compartiendo, escribieron y grabaron una canción cada día, usando técnicas de improvisación y escritura automática. Concebidas inicialmente como demos, estas canciones se publicaron en su forma original por el sello de Augsburgo Kleine Untergrund Schallplatten (KUS), dando lugar a su álbum de debut "Speaking from a Distance", el cual recibió críticas muy positivas y se agotó estando en fase de pre-order.
The BV's dieron su primer concierto con The Bats en junio de 2017, y recorrieron Alemania en octubre del mismo año junto a The Luxembourg Signal, compañeros de sello. En 2018, The BV's publicarán un EP de 12″ llamado "Interpunktion", nuevamente en el sello Kleine Untergrund Schallplatten, el cual presentarán como cuarteto en la edición de marzo de 2018 del Madrid Popfest.
—
The BV's formed in 2016, when Endlich Blüte guitarist Fred Jehle moved from Germany to England on a university exchange programme. There he met Josh Turner, and two weeks before Fred was due to move back to Germany, the two of them began writing songs and recording demos in the living room of their shared house in Falmouth, Cornwall.
In order to maximise the time they had left together, they wrote and recorded a song each day, using improvisation and automatic writing techniques. Intended initially as demos, these songs were released in their original form by Augsburg label Kleine Untergrund Schallplatten (KUS) as the debut album Speaking from a Distance, which received very positive reviews and sold out on pre-order.
The BV's played their first show with The Bats in June 2017, and toured Germany in October of the same year with fellow KUS band The Luxembourg Signal. In 2018, The BV's will release as 12″ EP, "Interpunktion", again on Kleine Untergrund Schallplatten, which will be presented as a quartet at Madrid Popfest's March 2018 edition.