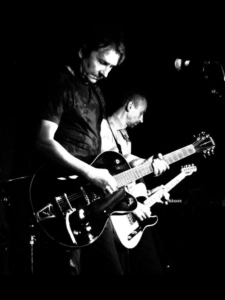 St. Christopher vienen de York, en el norte de Inglaterra. Publican su primer 7″ en el sello Bluegrass Records en 1984. St. Christopher siempre ha sido un proyecto DIY misterioso de mente independiente, cuyo período más conocido probablemente coincida con las 6 publicaciones en Sarah Records entre 1989 y 1991. Posteriormente se suceden otros lanzamientos en conocidos sellos de indiepop como Slumberland, Elefant, Vinyl Japan y Parasol hasta 1995, retomando la actividad entre 2007 y 2008.
Lo que no se conoce tanto es que St. Christopher es básicamente el trabajo de un solo hombre, el cantante y compositor Glenn Melia, y los músicos que recoge en el camino. Glenn retoma la banda en 2016 con su batería primigenio, Ian Kay. En 2017 Ian recluta al guitarrista Punky y al bajista Chris de las filas de su banda de DIY soul para ofrecer algunos conciertos en York.
Más populares en Europa y en Japón que en su país de origen, su aparición en el Madrid Popfest es una oportunidad única para los fans del indiepop de disfrutar de St. Christopher, ya que podrían volver a desaparecer misteriosamente en cualquier momento. ¡No te los pierdas!
—
St. Christopher come from York, in the North of England, and released their first 7″ on the tiny Bluegrass Records label in 1984. St. Christopher has always been a mysterious, independently minded DIY project with probably the most well known period being the 6 releases on Sarah Records between 1989 – 91. Further releases followed on a variety of well-known indiepop labels like Slumberland, Elefant, Vinyl Japan and Parasol until 1995 and there was also a flurry of activity between 2007 and 2008.
What is not so well known is that St. Christopher is essentially the work of one man, singer / songwriter Glenn Melia and whichever musicians he picks up along the way. Glenn restarted the band in 2016 with his drummer from the very earliest days, Ian Kay. In 2017 further musicians, guitarist Punky and bassist Chris were recruited from the ranks of Ian's-10 piece DIY soul band, Ian Kay's Soul Dream for a few gigs in York, U.K.
Always more popular in Europe and Japan than in their home country, their appearance at the Madrid Popfest is a very rare opportunity to catch St. Christopher and fans of DIY indie pop should seize the opportunity to see them because they might just as mysteriously disappear from sight again afterwards. Don't miss out!