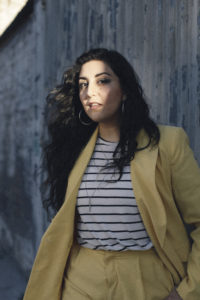 Por primera vez en el Madrid Popfest, tenemos en nuestro cartel un nombre chileno. Y nos estrenamos con nombre de mujer, ya que Fakuta es el alias de Pamela Sepúlveda Ariza. Tras diversas fases musicales anteriores en grupos como Mary Celeste y Golden Baba o en el dúo electrónico El Banco Mundial, decide iniciar una carrera en solitario.
El año 2008, Pamela comienza a componer canciones pop desplegadas en atmósferas cálidas y espaciosas, ritmos sutiles y a veces más potentes, que sostienen contagiosas melodías vocales. El universo musical de Fakuta lo forma un mundo de hits construidos a partir de bases programadas, sintetizador y voz. Publica su primer disco, "Al vuelo" en 2011 (Michita Rex), seguido de "Tormenta Solar" en 2014 (Quemasucabeza), lo que lleva a tocar en importantes festivales en Latinoamérica o en el Primavera Sound.
En 2017 regresa con su maxisingle "Abrazándote" (Quemasucabeza), dos nuevas canciones de una marcada vocación por melodías donde los sintetizadores toman un rol protagonista y producidas por ella misma. Desde Santiago de Chile a Madrid, pronto podremos ver su presentación en directo.
—
For the first time at Madrid Popfest, we include a Chilean name on our line-up. And we start with the name of a woman, since Fakuta is the alias of Pamela Sepúlveda Ariza. After different musical phases in bands such as Mary Celeste and Golden Baba, or in the electronic duo El Banco Mundial, she decides to start a solo career.
In 2008, Pamela begins to write pop songs displayed in warm and spacious atmospheres, subtle, or sometimes more powerful, rhythms sustained by contagious vocal melodies. The musical universe of Fakuta comprises a world of hits built from programmed bases, synthesizer and voice. She publishes her first album, «Al vuelo» in 2011 (Michita Rex), followed by «Tormenta Solar» in 2014 (Quemasucabeza), which leads to playing at important festivals in Latin America or at Primavera Sound.
In 2017 she returns with her maxisingle «Abrazándote» (Quemasucabeza), two new songs of a marked vocation for melodies where the synthesizers take a leading role and that has been produced by herself. From Santiago de Chile to Madrid, we will soon be able to see her live performance.