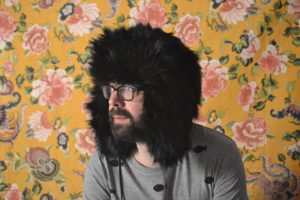 Seguir la carrera de Bassmatti o, como también es conocido, Pozik puede resultar algo complicado visto su largo recorrido, su incansable proceso de composición de nuevos temas, que pueden acabar o no teniendo su publicación física, y su colaboración en diferentes grupos como pueden ser Donut, AMA, FeCoNi, …
Es en 2010 cuando publica su disco de debut –que es su segundo disco tras el directo "Kafea Eta Galletak", su "disco de amor" grabado un día de San Valentín:nada parece corriente en la vida musical de este donostiarra- que fue una de las revelaciones más aplaudidas entre público y crítica a finales de ese año. Grabado mano a mano con Yon Vidaur", "Apropósito" (Birra y Perdiz) fue definido por Rockdelux como «Una de las mejores colecciones de canciones de pop español reciente." (Juan Manuel Freire). Destacan en este disco «DJ invitado» o una de nuestras favoritas "Adiós, Agua".
Su siguiente trabajo con Vidaur fue para Jabalina y se llamó "Melodías Concertantes". El single "Luces y cruces" sonó en Radio 3 más que las señales horarias, y hubo hasta vídeo para su tema "Solo había que soplar más fuerte" rodado en el Parque de Atracciones del Monte Igeldo.
Tras arrancar su proyecto en euskera OSO FAN con el notable (21´44´´) , el autor donostiarra se encerró en casa para ir grabando con mimo las canciones de su último disco "Trencadís" (Discos de Kirlian). Este MiniLP ,editado bajo su propio nombre, agotó su tirada,que hubo incluso que ampliar, en apenas un par de semanas de vida.
Apoyando la presentación de este disco, Bassmatti hará un parón en su tour actual #GirandoPorCasas para presentar "Trencadís" en el Madrid Popfest, en una de sus pocas actuaciones con banda. Para ello, tendremos el lujo de contar con la mayoría de componentes de Aeromozas, grupo madrileño formado por históricas de la escena madrileña como Mariví Hernández (El Palacio de Linares), Irene Bonilla (Underwater Tea Party), Blanca G. Agulló o María Rodrigo.
Esta unión, aparte de hacer la fuerza, promete ser uno de los conciertos más emocionantes y sorprendentes de todo este Madrid Popfest 2018.
—-
Bassmatti's career or Pozik, as he is also known, can be seen as something complicated based on it extension, his tireless production of new topics, which may or may not end with a physical release, and his collaboration in different groups such as Donut, AMA, FeCoNi, …
In 2010 when he releases his debut album, his second album after the live record «Kafea Eta Galletak», his «love record» recorded on a Valentine's Day: nothing seems ordinary in the musical life of this Donostiarra- who was one of the most celebrated revelations for public and critics at the end of that year. In collaboration with Yon Vidaur, «Apropósito» (Birra y Perdiz, 2010) was defined by Rockdelux as «One of the best recent collections of Spanish songs» (Juan Manuel Freire). Highlights in this album are «DJ Invitado» or one of our favorites «Adiós, Agua».
His next work with Vidaur was relased in Jabalina and it was called «Melodías concertantes» (2014). The single «Luces y cruces» featured on Radio 3 more frequently than the time signals, and there was even a video for its song «Sólo había que soplar más fuerte» at the Monte Igeldo Amusement Park.
After starting his project in Basque language, OSO FAN, with the notable (21'44 »), the author locked himself up at home to record the songs of his latest album «Trencadís» (Kirlian Records, 2017) with care. This MiniLP, published under its own name, sold out, in a couple of weeks.
Supporting the presentation of this record, Bassmatti will make a break on his current tour #GirandoPorCasas to present «Trencadís» at Madrid Popfest, in one of his performances with a supporting band. We will have the luxury of having most of the components of Aeromozas, local group formed by the members of the Madrid scene such as Mariví Hernández (Palacio de Linares), Irene Bonilla (Underwater Tea Party), Blanca G. Agulló or María Rodrigo.
This union, apart from making the force, promises to be one of the most exciting and surprising concerts of all Madrid Popfest 2018.