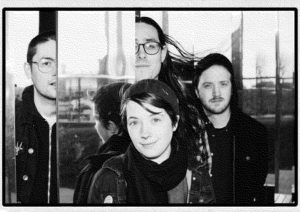 Recuerdo llegar al Indietracks 2013 y verme rodeado de camisetas de Martha. Me sorprendió, porque debo confesar que no los conocía y no los tenía apuntados en mi lista de grupos a ver. Con tanta camiseta paseando para arriba y para abajo, pensé que es había algo que se me escapaba y que tenía que estar bien. Efectivamente, esa tarde Martha dieron un concierto arrollador. Cuando volvieron cuatro años más tarde, en 2017, lo hicieron como cabezas de cartel cerrando la noche del viernes.
Nathan Stephens-Griffin, J. Cairns, Naomi Griffin y Daniel Ellisson son Martha, y Martha son punk-pop, son melodías, guitarras y también actitud. Y sobre todo, son DIY. En su propio sello, Discount Horse, han editado discos de Onsind (grupo formado por Nathan y Daniel), Colour Me Wednesday, Spoonboy o The Middle Ones, así como su primer EP, "Martha" en 2012. Posteriormente publicaron su disco de debut "Courting strong" en el sello londinense Fortuna Pop! (2014). Dos años después llegó su segundo LP, "Blisters in the pit of my heart" (Fortuna Pop!, 2016), reafirmando su capacidad de crear canciones pop sobre lo más cotidiano, envueltas en enérgicas melodías punk-pop. En sus propias palabras, este segundo disco gira alrededor de la idea de seguir siendo punk, mientras los años pasan y te enfrentas inevitablemente a la vida adulta.
Por fin, vienen a Madrid Popfest, y por primera vez a España, y estamos seguros que será uno de los conciertos a recordar de esta edición.
—-
I remember arriving at Indietracks 2013 festival and being surrounded by Martha t-shirts. I was surprised, since I must confess I did not know them then and they weren't in my list of must-see bands. Seeing so many t-shirts around made me thought that I was surely missing something, and that something ought to be good. And I was, since that afternoon Martha played a overwhelming show. When they returned four years later, in 2017, they were headlining and closing the opening friday night.
Nathan Stephens-Griffin, J. Cairns, Naomi Griffin and Daniel Ellisson are Martha, and Martha are pop-punk, they are melodies, guitars, but also attitude. Over all, they are DIY. In their own label, Discount Horse, they have released records by Onsind (formed by Nathan and Daniel), Colour Me Wednesday, Spoonboy or The Middle Ones, as well as their first EP, "Martha" in 2012. Their debut LP "Courting strong" was released in the london-based label Fortuna Pop! (2014), and that was followed two years later by their second LP, , "Blisters in the pit of my heart" (Fortuna Pop!, 2016), reaffirming their ability to create pop songs about day-to-day situations, based on energetic pop-punk melodies. In their own words, this second LP is about the idea of still being a punk, whilst at the same time years go by and you have to inevitably face adult life.
At last, they will be at Madrid Popfest, for the first time in Spain, and we are sure it will be one of the highlights of this edition.