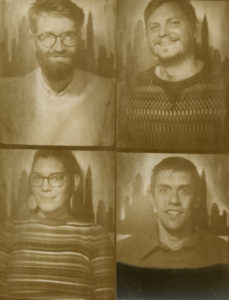 Hacerse mayor es algo inevitable. Cuando se aproxima el final de los 20, te das cuenta de que ya ha llegado, cosas que antes te divertían, ahora parecen una pérdida de tiempo, un recordatorio del poco tiempo que te queda. El álbum homónimo de debut de Young Scum, uno de los mejores discos de indiepop del año en nuestra opinión, bucea en ese sentimiento melancólico del tiempo que se va y de cómo agarrarse a las personas y recuerdos que hacen que todo merezca la pena.
Compartiendo el mismo estilo jangle power pop de su EP anterior, "Zona", este disco de 8 canciones muestran otra vez la habilidad de Young Scum para crear canciones pop que te hacen bailar y, más tarde, puede que derramar una lagrimita. Canciones sobre perder amigos, tener un trabajo horrible, estar aterrorizado por el futuro y, por supuesto, perder el tiempo.
Young Scum empezaron en 2015 como un medio de expresión para Chris Smith, durante una depresión post-graduado (de ahí el nombre del grupo). El grupo nació inspirado por el noise pop de Slumberland Records y el jangle de Sarah Records. Tanto el primer EP como este LP han sido editados en los EEUU por Citrus City Records y en España por el sello alicantino Pretty Olivia Records, casa que ha editado muchas gemas que ya han estado presentes en ediciones y fiestas Madrid Popfest (Loor a los Héroes, Juvenilia, El Palacio de Linares, Summer Fiction) ¡En Madrid Popfest darán su primer concierto internacional!
—-
Getting old is inevitable. And in the latter half of your 20s, it begins to finally set in. things that you once enjoyed now seem like a waste of time, a reminder of how little time you have. Young Scum's self-titled debut LP, one of the best indie pop records of the year for us, delves into that melancholy feeling of losing time and how to hold on to the people and memories that make everything worth it.
Sharing the same power poppy jangle of their previous EP 'Zona', this 8 track album further showcases Young Scum's ability to craft pop songs that have you dancing along and then maybe shedding a tear afterward. Songs about losing friends, having horrible jobs, freaking out about your future, and of course wasting time.
Young Scum started in 2015 as an outlet for Smith (vocals, guitar) during a post-graduate slump (hence the name Young Scum). Inspired by the noise pop of Slumberland Records and the jangle of Sarah Records, the band was born. They have released both an EP and their debut LP on Citrus City Records (US) and Pretty Olivia Records,the label from Alicante which has already released plenty of gems that have been present in Madrid Popfest's previous editions and parties (Loor a los Héroes, Juvenilia, El Palacio de Linares, Summer Fiction). Madrid Popfest will be their first international appearance!