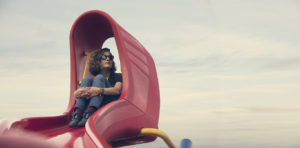 De Miranda a Bananarama, pasando por Dinarama, Family o La Buena Vida. Y los brazos de Madonna. Con unas melodías pegadizas y una cuidada producción musical, los cuatro temas que componen el hasta ahora único trabajo editado de la bajista de Las Chillers, un EP homónimo (Heaven Music, 2018), son "Camino amarillo", "Sobras", "Juego de tronos" y "Cañerías". En ellos, se explora, desde un lado bailable, el universo de las relaciones amorosas sin perder un ápice de sentimiento, de intensidad y hasta de costumbrismo.

El comienzo del proyecto está en diciembre de 2016, cuando los amigos de Belenciana organizaron un concierto de cumpleaños y la obligaron a presentar esas canciones que tenía medio escondidas a su gente más íntima. Con el impacto de esa actuación, surge una bella amistad entre la madrileña y el productor y músico Jose Battaglio, que se compromete con el proyecto.
El primer single, "Camino amarillo", se lanzó junto a un vídeo en el que se muestra un mundo atemporal, a lo San Junípero, en el que la canción se convierte en la banda sonora del camino de celebración del amor entre chicas.
—
From Miranda to Bananarama, through Dinarama, Family or La Buena Vida. And the arms of Madonna. With catchy melodies and a carefully crafted production, the four songs that make up the only published solo work by the bassist of Las Chillers, a homonymous EP (Heaven Music, 2018), are «Camino amarillo», «Sobras», «Juego de tronos» and «Cañerías». In these songs, Belenciana explores, from a danceable side, the universe of love relationships without losing a bit of feeling, intensity and even day-to-day issues.
The project begins in December 2016, when Belenciana's friends organized a birthday concert and forced her to present those songs that she had half hidden to her most intimate people. Following the impact of that performance, a beautiful friendship is born between the madrilenian and the producer and musician Jose Battaglio, who is committed to the project.
The first single, «Camino amarillo», was released alongside a video that shows a timeless world, like San Junípero, in which the song becomes the soundtrack of the path of celebration of love between girls.