Descaradamente gays, The Ballet unen la ética queer de The Hidden Cameras con la poética irónica de The Magnetic Fields para crear gemas pop ilustradas. La sexualidad siempre ha sobresalido en el trabajo de una banda que ahora es un dúo residente en Nueva York y que llevan a gala su estatus de grupo outsider.
Con las bases bien determinadas en su delicioso debut autoeditado en 2006, "Mattachine!", y la continuidad que supuso "The bear life" (2009), también autoeditado y algo más personal y arriesgado, "I blame society" (Fortuna Pop!, 2013) es un hito en el movimiento indiepop. Desde entonces, a contracorriente en estos tiempos de excesos generalizados y a pesar de su entendible actividad más pausada, el eco del secreto a voces que son The Ballet no ha dejado de retumbar.
—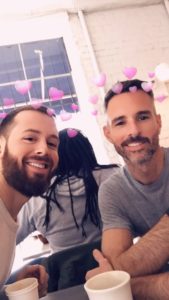 Shamelessly gay, The Ballet combines the queer ethic of The Hidden Cameras with the ironic poetics of The Magnetic Fields to create illustrated pop gems. Sexuality has always been prominent in the work of a band that is now a duo based in New York and that are proud of their status as an outsider group.
Based on the foundations set in their excellent self-released debut in 2006, «Mattachine!», and continued in their equally self-released «The bear life» (2009) which showed a more personal and risky approach, «I blame society» (Fortuna Pop! , 2013) is a milestone in the indiepop movement. Since then, against the trend in these times of generalized excesses and in spite of their understandable reduced activity, the echo of the open secret that are  The Ballet has not stopped rumbling.