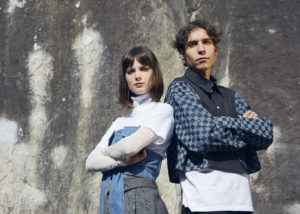 Siguiendo el camino de otros dúos como Michel Berger y France Gall, Eli & Jacno o Les Rita Mitsouko, la pareja formada por Leo y Vickie, bajo el nombre de The Pirouettes, comenzaron durante el último año de la escuela secundaria a trastear con canciones después de las clases. Es a partir del amor secreto de Leo por Vickie, que nace un dúo cuyas canciones entrelazan lo real y lo musical.
Podemos ver a lo largo de los dos EPs («Pirouettes»-2012- y» L´importance des autres»-2014-) y de «Carrément Carrément» (Kidderminster, 2016),su primer álbum autoproducido ,que las canciones van de lo íntimo a lo universal: la historia de su pareja y su forma de contarla en las canciones son perfectamente transferibles a las experiencias de su público.
Pero exponerse a este escrutinio a plena luz también supone ponerse en peligro y la posibilidad de correr el riesgo de quedar atado a un tipo de etiquetas que terminan sofocando: Leo y Vickie entendieron esto y se liberaron rápidamente de esta nostalgia de los 80.
Es así como, después de una gira que los llevó por toda Francia, así como a Nueva York y Montreal, y que culminaron en un concierto triunfal en La Cigale, que The Pirouettes presentaron su segundo álbum: «Monopolis» (Kidderminster, 2018).
Es en esta capital ficticia de Occidente, imaginada por Michel Berger para Starmania, que The Pirouettes decidieron establecerse para escribir su segundo LP: un álbum que quiere ser más narrativo, que se enorgullece de contar historias, ya sea bajo la forma de crónica amorosa ,de un diario que puede ser real o inventado o de un.cuento oriental. Una puesta en perspectiva, un descentramiento y una voluntad de apertura que también se siente en términos de composición, ya que el dúo ha colaborado esta vez con varios amigos músicos (Dodi El Sherbini, Lewis Ofman, Krampf o Vaati). En definitiva, una forma de renovarse, por supuesto, pero, sobre todo, de superarse y demostrar nuevas competencias.

—

Following the path of other duos such as Michel Berger and France Gall, Eli & Jacno or Les Rita Mitsouko, the pair formed by Leo and Vickie, under the name of The Pirouettes, started toying around with songs after class during their last year of high school. It is from Leo's secret love for Vickie, that a duo is born whose songs intertwine reality and music.
We can see in the two EPs («Pirouettes» -Kidderminster, 2012- and «L'importance des autres» -Kidderminster, 2014-) and «Carrément Carrément» (Kidderminster, 2016), their first self-produced album, that the songs go from the private sphere to the universal: the story of this couple and their way of telling it in the songs are perfectly transferable to the experiences of his audience.
But exposing yourself to this scrutiny in full light also means putting you in danger and the risk of being tied to a label that ends up suffocating you: Leo and Vickie understood this and quickly freed themselves from this nostalgia of the 80s.
This is how, after a tour that took them all over France, as well as to New York and Montreal, and culminated in a triumphant concert at La Cigale, The Pirouettes presented their second album: "Monopolis" (Kidderminster, 2018)
It is in this fictitious capital of the West, imagined by Michel Berger for Starmania, that The Pirouettes decided to settle down to write their second LP: an album that wants to be more narrative, that prides itself on telling stories, whether in the form of a love chronicle, of a journal that can be real or invented or of an oriental book. Looking from the distance, decentering and a perpetual will to open up that is also felt in terms of composition, since the duo has collaborated this time with several musical friends (Dodi El Sherbini, Lewis Ofman, Krampf o Vaati). In short, a way to renew, of course, but, above all, to overcome and demonstrate new skills.