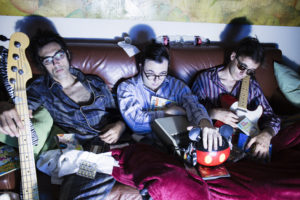 Guay! es la nueva aventura de Nacho , conocido también como El Ortiga (voz y sintetizador), Aitor (bajo y coros) y Pau (guitarra). Provenientes de varias bandas del subsuelo musical barcelonés, como Pelea!, Anticonceptivas, Corte Moderno, Cotolengo ,donde coincidieron Nacho y Pau, y otras bandas de andadura más o menos breve, los tres se juntaron en 2016 para evangelizar y dar su particular visión del presente.
Con solo un single ( Estoy enfermo – 2017-) y un LP ( La Sociedad -2018-) y con la Nueva Ola de la confluencia de los setenta y los ochentas, con sus teclados y cajas de ritmos primigenias, como base musical , Guay! van desarrollando letras sobre,y de ahí el título de su primer larga duración, la sociedad en la que vivimos, esa amalgama de neoliberalismo, noches de televisión de "lo que echen", música omnipresente dondequiera que uno va pero que realmente no nos dice nada de quienes somos. Una sociedad donde lo que importa es la diversión sobre todo y sobre todos . O ,como decían hace veinte años ya,Nosoträsh : "La Felicidad Es Un Alegre Ritmo Moderno".
—
Guay! Is Nacho (aka El Ortiga, voice and synth), Aitor (bass and backing vocals) and Pau's (guitar) new adventure. Coming from different bands of Barcelona's underground scene such as Pelea!, Anticonceptivas, Corte Moderno, Cotolengo (which included Nacho and Pau), and some other short-lived bands, the three got together in 2016 to evangelize and express their particular vision of the present.
With just one released single ("Estoy Enfermo", Cuerdas Fuera Records, 2017) and an LP ("La sociedad", self released, 2018) making music founded in the new wave of confluence of the 60s and 80s, with their keyboards and primitive drum machines, Guay! they write about our society in their lyrics (thus the name of their LP), an amalgam of neoliberalism, TV nights watching whatever is on and ubiquitous music that does not tell us anything about who we are. A society where everything it matters is having fun above everything and everyone. Or, as Nosoträsh said twenty years ago, "happiness is a joyful modern rhythm".