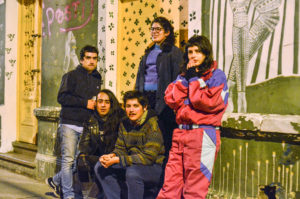 Paracaidistas es un quinteto musical conformado el año 2014 en Santiago de Chile, el cual se ha hecho notar a través de numerosas presentaciones en vivo y de la propagación de su material digital tanto en formato físico como en internet. El grupo se enmarca dentro de una surgente escena del pop chileno que ha logrado darse a conocer de manera independiente y autogestionada. Su sonido eminentemente indie se caracteriza por el uso de guitarras acompañadas de sintetizadores, y por sus melodías aparentemente ingenuas que se van contrastando con los sonidos ruidosos de las guitarras.
El quinteto cuenta con un EP de 5 temas producidos por Tomás Preuss de la banda Prehistóricos, además de haber lanzado el single "posmodernismo", que formó parte del compilado "Nueva Música Chilena" (NMC) producido por Cristián Heyne. A finales del año 2017 lanzaron "Bruxar", disco de larga duración producido por Tito Astete y Joaquín Saavedra Actualmente se encuentran trabajando en la producción de su nuevo material.
—
Paracaidistas is a quintet formed in 2014 in Santiago de Chile, which has made some noise through numerous live presentations and the propagation of their digital material both in physical format and on the internet. The group is part of a rising scene of Chilean pop that has managed to make itself known from and independent and self-managed approach. Their eminently indie sound is characterized by the use of guitars accompanied by synthesizers, and by their apparently naive melodies that are contrasted with the noisy sounds of the guitars.
The quintet has an EP of 5 songs produced by Tomás Preuss of the band Prehistóricos, as well as having released the single «Postmodernismo», which was part of the compilation «New Chilean Music» (NMC) produced by Cristián Heyne. At the end of the year 2017, they released «Bruxar», an LP produced by Tito Astete and Joaquín Saavedra. They are currently working on the production of their new material.