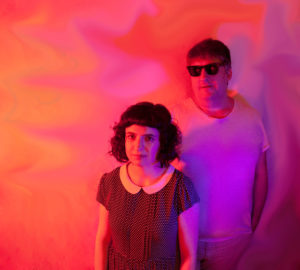 La banda de Brooklyn Jeanines se especializa en explosiones ultracortas de pop enérgico a la vez que melancólico en clave de indiepop. Con influencias que confluyen con los más importantes tributadores al pop DIY – Messthethics, Television Personalities, Marine Girls, los primeros Pastels, Dolly Mixture – han creado un estilo que es tan característico como placentero. La voz pura y desafectada de Alicia Jeanine reflexiona melancólicamente sobre las ilusiones del tiempo, mientras que el maestro Jed Smith (My Teenage Stride / Mick Trouble), frenético batería de ritmos Motown y creativo bajista, aporta una emocionante base rítmica.
"Winter In The Dark" y una encantadora y alegre versión de "Falling Off Of My Feet Again" de The Siddeleys proporcionan una buena idea acerca de la música de Jeanines. Las melodías de corte sesentero y ochentero combinan con el sonido jangle de la guitarra recordando a todo lo bueno, desde The Aislers Set y Saturday Looks Good To Me hasta grupos más recientes como Parsnip y Chook Race. "Either Way", canción que abre el disco, "Hits The Bone" y "Where We Go" recuerdan a algunos de los momentos más inspiradores de la era C86 / C88, cuando Jesse Garon y The Desperadoes crearon gemas pop perfectas de inspiración punk.
Otras magníficas canciones como "Where I Stand", "Too Late" y "In This House" son ventanas al estilo e inspiración lírica de Alicia. La unión entre las melodías indiepop y las letras melancólicas es poderosa y hace que las canciones de Alicia sean aún más memorables, especialmente en canciones como "No Home", con ecos de grupos post-punk de armonía vocal femenina como Grass Widow y Household.
Los medios ya han comparado a Jeanines con iconos pop de culto como Dear Nora, Black Tambourine y con grupos más recientes como Veronica Falls y Girl Ray, pero sus melodías oscuras y sus letras filosóficas, junto con la musicalidad versátil pero siempre económica de Smith, aseguran su lugar propio en la bulliciosa escena pop actual.
——
Brooklyn's Jeanines specialize in ultra-short bursts of energetic but melancholy minor-key pop. With influences that run deep into the most crucial tributaries of DIY pop — Messthethics, the Television Personalities, Marine Girls, early Pastels, Dolly Mixture — they've crafted a style that is as individual as it is just plain pleasurable. Alicia Jeanine's pure, unaffected voice muses wistfully on the illusions of time, while My Teenage Stride/Mick Trouble mastermind Jed Smith's frantic Motown-esque drumming and inventive bass playing provide a thrilling rhythmic foundation.
"Winter In The Dark" and a lovely, jaunty cover of The Siddeleys' "Falling Off Of My Feet Again" provide great insight into what Jeanines are about. 60s-meet-80s melodies combine with timeless guitar jangle in a way that recalls everything from The Aislers Set and Saturday Looks Good To Me to more recent DIY pop groups like Parsnip and Chook Race. Album opener "Either Way," "Hits The Bone" and "Where We Go" hearken back to some of the most intriguing bands of the C86/C88 era, when bands like Jesse Garon & The Desperadoes crafted perfect pop gems enlivened by the inspiration of punk.
Gorgeous songs like "Where I Stand," "Too Late" and "In This House" are windows into Alicia's lyrical style and inspiration. The marriage of the minor-key melodies and melancholic lyrics is powerful and make Alicia's songs all the more memorable, especially so on songs like "No Home," with its echoes of girl harmony post-punk groups like Grass Widow and Household.
Jeanines have been compared to such cult pop icons as Dear Nora, Black Tambourine, and more recent acts like Veronica Falls and Girl Ray, but their dark, modal melodies and pensive, philosophical lyrics, along with Smith's versatile but ever-economical musicality, ensure them a place of their own in today's crowded but boisterously healthy DIY pop scene.