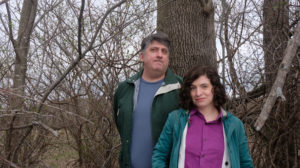 La banda de Brooklyn Jeanines se especializa en explosiones ultracortas de pop enérgico a la vez que melancólico en clave de indiepop. Con influencias que confluyen con los más importantes tributadores al pop DIY – Messthethics, Television Personalities, Marine Girls, los primeros Pastels, Dolly Mixture – han creado un estilo que es tan característico como placentero. La voz pura y desafectada de Alicia Jeanine reflexiona melancólicamente sobre las ilusiones del tiempo, mientras que el maestro Jed Smith (My Teenage Stride / Mick Trouble), frenético batería de ritmos Motown y creativo bajista, aporta una emocionante base rítmica.
Los medios ya han comparado a Jeanines con iconos pop de culto como Dear Nora, Black Tambourine y con grupos más recientes como Veronica Falls y Girl Ray, pero sus melodías oscuras y sus letras filosóficas, junto con la musicalidad versátil pero siempre económica de Smith, aseguran su lugar propio en la bulliciosa escena pop actual.
——
Brooklyn's Jeanines specialize in ultra-short bursts of energetic but melancholy minor-key pop. With influences that run deep into the most crucial tributaries of DIY pop — Messthethics, the Television Personalities, Marine Girls, early Pastels, Dolly Mixture — they've crafted a style that is as individual as it is just plain pleasurable. Alicia Jeanine's pure, unaffected voice muses wistfully on the illusions of time, while My Teenage Stride/Mick Trouble mastermind Jed Smith's frantic Motown-esque drumming and inventive bass playing provide a thrilling rhythmic foundation.
Jeanines have been compared to such cult pop icons as Dear Nora, Black Tambourine, and more recent acts like Veronica Falls and Girl Ray, but their dark, modal melodies and pensive, philosophical lyrics, along with Smith's versatile but ever-economical musicality, ensure them a place of their own in today's crowded but boisterously healthy DIY pop scene.