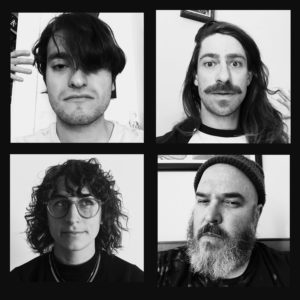 The Reds, Pinks & Purples es la vía compositiva pop de Glenn Donaldson. Glenn formó parte anteriormente de Skygreen Leopards y Art Museums entre otros grupos, publica discos en sellos como Woodsist, Siltbreeze, Slumberland y Jagjaguwar, y ha colaborado con otros artistas como Woods, The Fresh & Onlys y The Mantles. En directo está acompañado por Katiana Mashikian, Thomas Rubenstein y Andrew Hine.
En palabras de Javi, "capo" del sello Pretty Olivia Records donde The Reds, Pinks & Purples han publicado su espléndido disco "Anxiety art": Vivimos tiempos en los que es difícil encontrar algo que desde la primera escucha reviva en ti sentimientos y emociones que creías anclados a un tiempo y un lugar que ya no volverán, ecos de un pasado en que cada canción de Sarah Records podía cambiarte la vida, los Go Betweens eran los dioses a los que acudías en busca de consuelo y el "Murmur" de R.E.M. la banda sonora de tus días.
Algo así sentí la primera vez que escuché una demo de The Reds, Pinks and Purples. Bajo este nombre se esconde ni más ni menos que uno de los talentos más extraordinarios y prolíficos que haya dado la escena independiente norteamericana en los últimos años, el gran Glenn Donaldson.
Glenn ha conseguido en estas 14 canciones evocar la misma pureza DIY pop que algunas de las leyendas particulares de esta casa: Brighter, Field Mice, los primeros tiempos de Creation, el panteón sagrado de Flying Nun y el jangle pop americano. 14 joyas sin desperdicio repletas de melancolía y melodías para toda una vida, un derroche de talento que no podíamos dejar sin edición física. Dadle una oportunidad, me estaréis eternamente agradecidos".
——
The Reds, Pinks & Purples is the pop songwriting outlet for Glenn Donaldson. He played in Skygreen Leopards and Art Museums among many others, makes records for such labels as Woodsist, Siltbreeze, Slumberland and Jagjaguwar, and has collaborated with many other artists such as Woods, The Fresh & Onlys and the Mantles. Live he is joined by Katiana Mashikian, Thomas Rubenstein and Andrew Hine.
In words of Javi, head of Pretty Olivia Records label where The Reds, Pinks & Purples have released their superb record "Anxiety art": We live in times where it is difficult to find something that, from the first listening, revives feelings and emotions that you thought were anchored in a time and place that will no longer return, echoes of past times where each Sarah Records single could change your life, the Go Betweens were the gods you went to for comfort and "Murmur" of REM was the soundtrack of your life.
I felt something like that the first time I heard a demo of The Reds, Pinks and Purples. Under this name lies one of the most extraordinary and prolific talents that the American independent scene has given in recent years, the great Glenn Donaldson.
In these 14 songs, Glenn has managed to evoke the same DIY pop purity as some of the particular legends of this label: Brighter, Field Mice, the early days of Creation, the sacred pantheon of Flying Nun and the American jangle pop. 14 jewels without waste full of melancholy and melodies for a lifetime, a demonstration of talent that we could not leave without physical edition. Give it a chance, you will be eternally grateful".