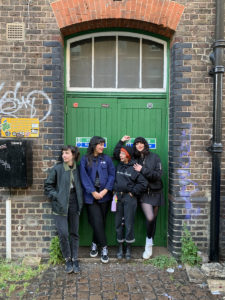 Molar no es un verbo ni un diente que a veces hay que sacar. Molar es una banda de 4 chicas de diferentes puntos del planeta que se han juntado en Londres para hacer un post punk fascinante.
Al venir de diferentes ciudades, cada una trae de serie sus propias vivencias sociopolíticas, unas que canalizan en su música, creando hasta ahora varios demos y EPs. El último, Straniero, de 5 canciones, supone la construcción final de un sonido propio: el que sin saber cómo te sumerge en un pogo que va desde el noise pop al punk más desgarrador.
Molar no es un verbo, pero Molar, molarán.
—
Molar is not a verb or a teeth that must be pulled. Molar is a 4 girls band from various places across the globe who have reunited in London to do a mesmerising post punk.
As they come from different cities, each one brings their own experiences of socio-political issues, channelizing them in its music, creating some demos and EPs so far. The last one, Straniero, of 5 songs, supposes the final construction of her own sound: one that suddenly immerses you in a pogo that goes from the noises pop to the most punching punk angst.
Molar is not a verb, but Molar, molarán.