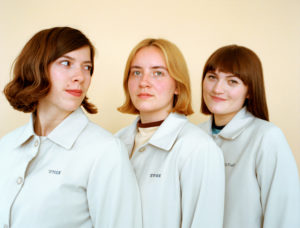 La banda del norte de Londres, Girl Ray, actuará por primera vez en Madrid en el Festival Madrid Popfest para presentar su segundo álbum, un delicioso tributo a su amor por el pop y el R&B.
Las canciones pop de alta calidad y atemporales no siempre se han creado en oficinas por parte un puñado de escritores y equipos de marketing, cediéndose después a los mejores cantantes. Erase una vez, los propios artistas escribían y grababan estas canciones (George Michael, Prince o Kate Bush, por ejemplo), los cuales querían utilizar el medio universal de la música pop para transmitir mensajes alegres y accesibles de amor y amistad.
Y eso es lo que han conseguido Girl Ray. Han hecho mucho más que simplemente "explotar". Tener la confianza suficiente para cambiar totalmente la producción creativa es algo que muy pocos artistas logran, pero ellas lo han logrado.
En 2017, Girl Ray lanzó 'Earl Grey': un álbum debut de canciones dulces y pegadizas sobre el anhelo, la amistad, las dudas y la contemplación. Fue un éxito. "Con Girl Ray, sabíamos que habíamos encontrado algo especial", dice Stephen Bass de Moshi Moshi, quien fichó a la banda en 2016.
Finalizada su gira, Poppy, Sophie e Iris, las 3 componentes de Girl Ray, regresaron a la Tierra, buscando empleo en tiendas y restaurantes. Se volvieron apáticas, tuvieron épocas de sentirse como una mierda y seguían viéndose ritualmente a pesar de no crear demasiada música. Poppy comenzó a escribir algunas canciones nuevas para el segundo disco, de forma similar a las dulces odas al anhelo, al amor y a la amistad de su disco de debut. Pero las buenas vibraciones se habían esfumado.
Fue la explosión de Ariana Grande en la cultura pop lo que inició una nueva era para Girl Ray. "'Thank U, next' salió y eso cambió todo", dice Poppy. Un vistazo a sus listas de reproducción de Spotify más escuchadas les hizo darse cuenta de que les gustaba más la música de Calvin Harris, Destiny's Child, Dua Lipa y Britney que la música de guitarras. Esto, combinado con la balada de amor propio de Ariana y el ambiente festivo que presenciaron estando de gira con el grupo estadounidense Porches ("Su juego en directo fue muy divertido y bailable", recuerda Sophie. "Parecía más un fiesta que un concierto") llevó a que la banda comenzara a preguntarse si podrían intentar crear su pop propio.
Después de esta revelación, todo encajó. Poppy comenzó a experimentar escribiendo canciones sobre ritmos. "Tuve que comenzar a aprender a escribir en un ordenador, usando teclados, y eso hizo que todo sonara más pop", explica.
Las canciones salieron solas. Una colección de relucientes y efervescentes trallazos pop. Inconfundiblemente Girl Ray, pero añadiendo sintetizadores. Si 'Earl Grey' era una taza de té caliente y un abrazo en el sofá, 'Girl' es estar en un taxi con las ventanas abiertas de camino a un bar en la playa para tomar el sol. Es la emoción de un beso del sol de 'If It's Lovin' That You Want' de Rihanna, combinada con el humor sardónico impenetrable de una pandilla de chicas. Entre las canciones de estilo R&B que inducen a una sonrisa, trepidantes e intensamente valientes en el álbum, hay también bellas baladas de piano llenas de tristeza y amor no correspondido que hicieron que 'Earl Gray' se sintiera como una mirada de un viejo amigo.
La banda llevó las demos a Ash Workman de los estudios Electric Beach en Margate. "Tiene más experiencia pop [Christine and the Queens and Metronomy], que es exactamente la razón por la que lo queríamos para el trabajo", dice Poppy. "No tuvimos que transigir con él, él lo entendió de inmediato". Ash escuchó las demos y estaba ansioso por ayudarlas a producir un disco que sonara algo así como "las Drake de los 70". La banda estaba un poco confundida por esto, así que pegaron fotos de Ariana alrededor de su mesa de mezclas para recordarle su razón de ser.
Aunque 'Girl' suena un poco como un cruce entre la banda sonora de Love Island y 'The Power Out' de Electrelane, no tiene etiquetas. Girl Ray han creado algo hermoso que no se ha visto en mucho tiempo: pop creado por artistas dedicados a la misión de hacer música para que la gente realmente disfrute. Música que no parece confundir ni ser condescendiente. Música para enamorarse, para bailar. Canciones que te gustaría enviar a tus amigos.
"El pop es tan divertido y universal, incluso si eres un súper muso nerd interesado en Elliot Smith aún te encanta escuchar un poco de Whitney Houston y eso es lo realmente atractivo para mí", dice Poppy. "Si escuchas un buen ritmo, no puedes no hacer boogie, y queremos que nuestros conciertos sean más una fiesta y que se escuche buena música".
"Con esta nueva colección de canciones, han sido lo suficientemente valientes como para cambiar completamente su sonido en lugar de tocar sin arriesgarse, pero siguen siendo inconfundibles", dice Stephen. "Un movimiento audaz quizás, pero también una señal de ese deseo de esforzarse que solo los mejores artistas tienen".
——
North London band Girl Ray will play in Madrid at Madrid Popfest to present their second album with a delightful, sun-kissed tribute to their love of pop and R&B.
High quality, timeless pop songs weren't always created in offices by handfuls of writers and marketing teams and then farmed out to the highest bidding singers. Once upon a time they were written and recorded by artists – George Michael, Prince or Kate Bush for example – who wanted to use the universal, happy medium of pop music to put across joyous, accessible messages of love, friendship and life to the world.
And that's what Girl Ray have done. They've done far more than just "go pop." To have the confidence to totally change one's creative output is something so few artists manage, but they've nailed it.
Back in 2017, the band Girl Ray released Earl Grey: a debut album of expertly-crafted, sweet, hummable songs about longing, friendship, self doubt and contemplation. It was a success. "With Girl Ray, we knew we had found something special," says Stephen Bass of Moshi Moshi who signed the band in 2016.
After their tour rolled to a stop and Girl Ray's members Poppy, Sophie and Iris floated back to earth, taking up employment in shops and restaurants. They hung about listlessly, struggled with bouts of feeling a bit shit and saw each together ritualistically despite not creating much music. Poppy started writing some new songs for their second record much like the sweet odes to longing, love and friendship on their debut. But the vibes just weren't there.
It was Ariana Grande's explosion into pop culture that kickstarted a new era for Girl Ray. "Thank U, Next came out and that kind of changed everything," Poppy says. A quick glance at the band's most-listened-to Spotify playlists informed them that they were far more into music from the likes of Calvin Harris, Destiny's Child, Dua Lipa and Britney than they were into guitar music. That, combined with Ari's ballad of self-love and the party vibe Girl Ray witnessed when touring with US band Porches ("their live game was so fun and super synthy and so danceable," Sophie recalls. "It looked like much more of a party,") led to the band beginning to wonder if they could try their hand at making their own pop.
After that realisation, everything clicked into place. Poppy began experimenting with writing songs over beats. "I had to start learning how to write on a computer, using keyboards, and that made everything sound more pop," she explains.
The songs poured out. A collection of shimmering, foot-tapping, sparkling pop bangers. It's unmistakably Girl Ray, but with added synths. If Earl Grey was a hot cup of tea and a cuddle on the sofa, Girl is being in a cab with the windows down on the way to a beach bar for sundowners. It's the sun kissed excitement of Rihanna's If It's Lovin' That You Want, combined with the eye-rolling, impenetrable sardonic humour of a girl gang. Among the grin-inducing, trepidatious and intensely courageous R&B-style tracks on the album are beautifully composed piano ballads steeped in the sadness and unrequited love that made Earl Grey feel like a knowing look from an old friend.
The band took the demos to Ash Workman at Electric Beach Studios in Margate. "He has more of a pop background [Christine and the Queens and Metronomy] which is exactly why we wanted him for the job," Poppy says. "We didn't have to compromise with him, he just got it straight away." Ash listened to the demos and was keen to help them produce a record that sounded something like "70s Drake." The band were slightly confused by this, so they stuck pictures of Ariana around his mixing desk to remind him of his raison d'être.
Even though Girl sounds a little like a cross between the Love Island soundtrack and The Power Out by Electrelane, it's almost genre-less. Girl Ray have created something beautiful that hasn't been seen for a long time now: expertly-crafted pop created by dedicated artists on a mission to make music for people to really enjoy. Music that doesn't look to confuse or patronise. Music to fall in love to, to dance to. Songs you'd want to send to your friends.
"Pop is so fun and universal, even if you're a super muso nerd who's into Elliot Smith you're still going to love hearing a bit of Whitney Houston and that's really appealing to me," Poppy says. "If you hear a good groove you can't not boogie, and we want our shows to be more of a party and for it to be more feelgood music.""With this new set of songs they have been brave enough to completely change their sound rather than playing it safe yet still remain unmistakably themselves," says Stephen. "A bold move perhaps, but a sign of that desire to push themselves that only the best artists have."