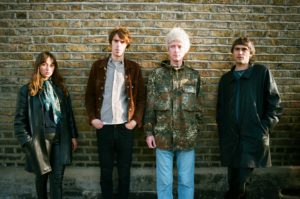 Hay muchos grupos que han seguido la tradición más clásica del pop, desde los 60 hasta ahora, con más o menos suerte. Con frecuencia, el éxito o el fracaso a la hora de emular los sonidos de tantos grandes grupos de la época depende de ser capaces de conseguir hacerlo con personalidad propia. Y James Hoare y Max Oscarnorld, The Proper Ornaments, han conseguido hacerlo en sus cinco discos desde sus inicios en 2010.
James (también miembro de los añorados Verónica Falls y de Ultimate Painting) y Max (miembro de Pink Flames y TOY) se conocen de manera fortuita y tras descubrir su amor por los esos sonidos clásicos, deciden iniciar un proyecto juntos en el que escribir canciones que reflejen ese amor por el pop clásico. A medio camino entre la psicodelia y el pop, la influencia de la costa oeste, con las voces y guitarras jangle de The Byrds, se transportan a Londres añadiendo una alta carga de melancolía, cada vez más presente en sus discos. En la edición de 2020 estaba previsto que presentaran "6 Lenins" (2019, Tapete Records) y «Mission Bells» (2020, Tapete Records) que tenían previsto publicar por esas fechas. Ahora ya hemos podido escuchar los dos y estamos seguros de que dejarán momentos inolvidables de su paso por el festival.
—
There are many bands that have followed the classical tradition of pop, from the 60s until now, with more or less luck. Often, success or failure emulating the sounds of so many great bands depends on being able to do bring their own personality into the songs. James Hoare and Max Oscarnorld, The Proper Ornaments, have managed to do so in their five albums since they started in 2010.
James (also a member of our beloved Verónica Falls and Ultimate Painting) and Max (member of Pink Flames and TOY) met by chance and, after discovering their love for those classic sounds, they decided to start a project together to deliver songs that reflect that love for classic pop. Halfway between psychedelia and pop, the influence of the west coast sounds, such as The Byrds' jangle vocals and guitars, is transported to London adding a deep layer of melancholy, increasingly present in their albums. In the 2020 edition they were planned to present «6 Lenins» (2019, Tapete Records) and «Mission Bells» (2020, Tapete Records) which they had planned to release around that time. Now we have been able to listen to both of them and we are sure that they will leave unforgettable moments of their time at the festival.