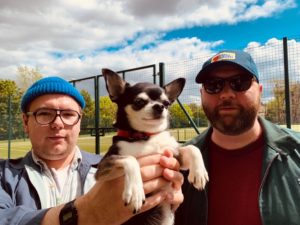 Como podréis imaginar, Madrid Popfest tiene un lugar especial en su corazón para Escocia. En ediciones anteriores hemos traído a Madrid a alguna de las (en nuestra opinión) mejores bandas escocesas, como los BMX Bandits y The Spook School. Pero también nos encanta descubrir nuevos grupos procedentes de esas tierras, y así ha sido con la banda de Glasgow U.S. Highball.
Este nuevo grupo formado por James Hindle y Calvin Halliday, ambos miembros de The Pooches. En formato dúo, que incluye el Casiotone de Calvin y la guitarra jangle de James, ya han editado un EP ("Think again", 2018) y un LP ("Great record", 2019) en EEUU via Lame-O-Records, y ya están trabajando en su segundo disco que será editado este año por Bingo Records.
La caja de ritmos le da un toque DIY a sus canciones de pop clásico, influidas por la elegancia de Felt y la sensibilidad pop de Teenage Fanclub. Vienen por primera vez a España para que disfrutemos una vez más de lo mejor de Escocia en el Madrid Popfest.

—

As you can imagine, in Madrid Popfest we have a sweet spot in our hearts for Scotland. In past editions we've brought to Madrid some of Scotland's greatest bands (in our opinion), such as the BMX Bandits and The Spook School. But we also love to discover new bands from there and Glasgow-based U.S. Highball has been the case this year.
This is a new band formed by James Hindle & Calvin Halliday, both of them members of The Pooches. With this duo format, composed of Calvin's casiotone and James' jangly guitar, they have already released an EP ("Think Again", 2018) and LP ("Great record", 2019) via Lame-O Records in the U.S. and they are working on their sophomore album, to be released later this year via Bingo Records.
The drum machine brings a DIY flavour to their classic pop songs, influenced by Felt's elegance and Teenage Fanclub pop sensitivity. In Madrid Popfest they'll come for the first time to Spain, so we can enjoy one more time the finest of Scotland.