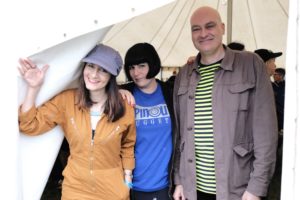 Jetstream Pony se llaman así debido a un galgo de carreras retirado, y provienen del amor por el post punk y el indiepop. Con base en Brighton y Croydon (Reino Unido), la banda está formada por Beth Arzy (Trembling Blue Stars / Luxembourg Signal / Lightning in a Twilight Hour / Aberdeen) a la voz, Shaun Charman (batería original de The Wedding Present / The Popguns) a la guitarra, y Kerry Boettcher (Turbocat) al bajo, a los que se une Anthony Bryant (The Popguns) a la batería para esta actuación especial en el Madrid Popfest.

Beth y Shaun se conocieron como miembros de The Fireworks. El primer sencillo 'Like You Less / Had Enough' se grabó en un iPad, recogido y lanzado en vinilo posteriormente por el excelente sello Kleine Untergrund Schallplatten (KUS) de Augsburgo. A lo que siguieron las primeras grabaciones de estudio, el EP de cinco canciones en 12" 'Self-Destruct Reality' y el nuevo single en 7″ 'I Close My Eyes', publicado con motivo de la gira por el Reino Unido con The Wedding Present en diciembre de 2019. Todos ellos han recibido excelentes críticas y han sonado en las radios de todo el mundo, incluyendo la BBC6.

En mayo de 2020 publicarán su disco de debut en el sello estadounidense Shelflife y en el alemán KUS.

—-

Jetstream Pony are named after a retired racing greyhound, and come from a love of post punk and indiepop. They are based in Brighton and Croydon (UK) and feature Beth Arzy (Trembling Blue Stars/Luxembourg Signal/Lightning in a Twilight Hour/Aberdeen) on vocals, Shaun Charman (original drummer of The Wedding Present/The Popguns) on guitar, Kerry Boettcher (Turbocat) on bass, and are joined for this show at Madrid Popfest by Anthony Bryant (The Popguns) on drums.

Beth and Shaun met as members of The Fireworks. The first single 'Like You Less / Had Enough' was recorded on an iPad, picked up and released on the excellent vinyl-only label Kleine Untergrund Schallplatten of Augsburg in Germany. This was followed by the first studio recordings, the five track 12" EP Self-Destruct Reality and the new 7" single 'I Close My Eyes', released for a UK tour with The Wedding Present in December 2019. All received excellent reviews and radio play around the world, including BBC6 Music.

The debut studio album has been mixed, and is due for release in May 2020 on Shelflife and Kleine Untergrund Schallplatten.