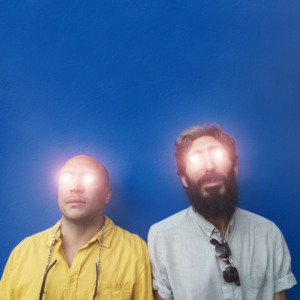 Estrella Fugaz es un dúo que nace como un proyecto musical de Lucas Bolaño (actualmente colaborando en Glue Kids, Cabeza, Erissoma + Lucas Bolaño o La Estrella de David).
Lucas acumulaba ya años de vivencia en la escena "ultraunderground" en los que apostó por el DIY desde la experimentación y la improvisación libre antes de concebir este proyecto. En ese tiempo formó parte del colectivo GRS —proyecto dedicado a la programación y difusión de músicas marginales— y publicó referencias de diferentes proyectos en Audiotalaia (Valencia), Popmuzik (Japón) o Discos Walden (Madrid). Destacan entre 2007 y 2016 sus discos publicados bajo el seudónimo ELM (Experimental Little Monkey).
En este contexto, se lanzó a componer nuevos temas a base de sampleos, sintes, percusiones, guitarra española y capas de voz y conformó este dúo junto con el baterista Ricardo Ramos (también en ELM y Cabeza).
Juntos interpretan estas canciones creando una atmósfera entre el folclore y electrónica.
Desde el humor y nostalgia y haciendo referencia a la ciencia ficción y a dibujos animados, las letras de Estrella Fugaz nos hablan de una manera tan cotidiana y real como marciana de la paternidad, la España oscura o las relaciones personales.
Estrella Fugaz cuenta con su primer LP: "Un sendero fluorescente". Esta disco fue grabado en Centro de Residencias Artísticas de Matadero como uno de los proyectos ganadores de la convocatoria de residencias musicales 2018-2019. Finalmente fue editado por Cabalito Records y Estrella Fugaz y cuenta con destacables colaboraciones.
Además, ya cuenta con un single posterior con dos temas inéditos editado por Discos Garibaldi.
—
Estrella Fugaz is a duo that was born as a collaboration between Lucas Bolaño (currently working with Glue Kids, Cabeza, Erissoma + Lucas Bolaño or La Estrella de David).
Lucas already had years of experience in the "ultraunderground" scene in which he embraced DIY from experimentation and free improvisation before conceiving this project. Back then, he was part of the GRS collective —project dedicated to the programming and promotion of marginal music – and published references of different projects in Audiotalaia (Valencia), Popmuzik (Japan) or Discos Walden (Madrid). Especially relevant is his work between 2007 and 2016 with his albums published under the pseudonym ELM (Experimental Little Monkey).
In this context, he began to write new songs based on samples, synths, percussions, Spanish guitar and layered vocals to form this duo with drummer Ricardo Ramos (also part of ELM and Head).
Together they create these songs creating an atmosphere between folklore and electronic music.
Delivered with humor and nostalgia and making references to science fiction and cartoons, Estrella Fugaz's lyrics are as day-to-day as they are bizarre when speaking about fatherhood, Spain's misseries or relationships.
Estrella Fugaz has released a first LP: "Un camino fluorescente". Recorded at the Matadero Artistic Residency Center as one of the winning projects of the 2018-2019 call for musical works. Finally it was released by Cabalito Records and Estrella Fugaz (2019), and includes notable collaborations.
It was followed by a new single with two unreleased tracks edited by Discos Garibaldi ("Adiós", 2019).