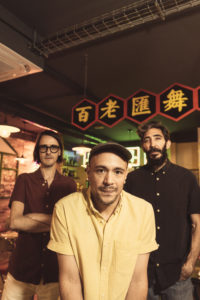 Estrella Fugaz es un proyecto musical de Lucas Bolaño que se mueve entre el folclore y la electrónica.
Desarrolla su trabajo en formato trío junto al baterista Ricardo Ramos y Javier Carrasco – Betacam (Tulsa,
Kokoshca).
Sus temas se construyen a partir de sampleos, sintetizadores, percusión, guitarra y capas de voz. Habla de lo cotidiano y lo marciano en una mezcla de humor y nostalgia. Las relaciones personales, la paternidad, la España oscura o referencias a la ciencia ficción y los dibujos animados conforman los márgenes de esta propuesta.
Lucas Bolaño (Toledo, 1981) viene de la escena infraunderground, del DIY, de la experimentación y de la improvisación libre. Ha publicado referencias de sus diferentes proyectos en netlabels y pequeños sellos nacionales e internacionales como Audiotalaia, Popmuzik (Japón), Discos Walden, Caballito Records y Discos Garibaldi. Actualmente colabora como músico en bandas como Glue Kids, La Estrella de David o Cabeza y como productor de otras como Valdivia, Morreo o La Claridad.
Su próximo disco será publicado por Sonido Muchacho a principios de 2022.
—
Estrella Fugaz is a musical project by Lucas Bolaño that moves between folk and electronic music. He works in trio format with drummer Ricardo Ramos and Javier Carrasco – Betacam (Tulsa,
Kokoshca).
His songs are built from samples, synthesizers, percussion, guitar and layers of voice. He talks about the everyday and the bizzare in a mixture of humour and nostalgia. Personal relationships, paternity or references to science fiction and cartoons make up the margins of this proposal.
Lucas Bolaño (Toledo, 1981) comes from the infra-underground scene, DIY, experimentation and free improvisation. He has published references of his different projects in netlabels and small national and international labels such as Audiotalaia, Popmuzik (Japan), Discos Walden, Caballito Records and Discos Garibaldi. He currently collaborates as a musician in bands such as Glue Kids, La Estrella de David or Cabeza and as a producer of others such as Valdivia, Morreo or La Claridad.
His next album will be released by Sonido Muchacho in early 2022.