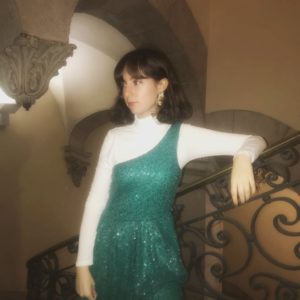 Cabiria es el proyecto unipersonal surgido de que la catalana Eva Valero se encerrase un buen día en su habitación y empezase a componer canciones, publicando a finales de 2016 en bandcamp un EP homónimo.
Desde este primer momento Cabiria deja claro su sello personal. Sus letras se presentan llenas de ironía, partiendo de rimas y juegos de palabras de personajes de la cultura popular. Esta parte lírica nos lleva a poder encuadrar el proyecto en el autodenominado "mememusic", mientras que lo instrumental nos atrapa en una preciosa atmósfera synthpop/lo-fi con mucha presencia de sintes y guitarras reverberadas.
En 2017 publicó "C'est Lindy On", un primer disco editado en cassette y CD por Discos Walden/Fikasound. Desde entonces forma parte activa de la escena musical indiepop española colaborando con bandas como Autoescuela. También hace su labor de reivindicación y promoción de otras bandas jóvenes españolas incluso montando su propio festival: el Prom Fest.
—
Cabiria is a one-girl project that is born after the catalan artist Eva Valero locked herself away in her bedroom to start writing songs that were finally released in bandcamp 2016 in an eponymous EP.
From the very beginning, Cabiria makes clear her personal touch. Her lyrics are full of irony, based on rhymes and puns of pop culture characters. The project could be categorized in the self-styled «mememusic» due to the lyrical part, while the instrumental catches us in a beautiful synth pop/lo-fi atmosphere with a lot of synths and reverberated guitars.
In 2017 she published «C'est Lindy On», her first record released on cassette and CD by Discos Walden/Fikasound. Since then, she has taken an active part in the Spanish indiepop music scene, collaborating with bands such as Autoescuela. She also upholds and promotes other young Spanish bands even setting up her own festival: the Prom Fest.