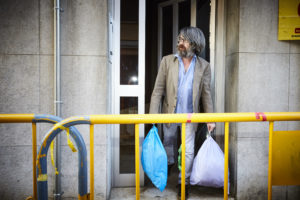 Ha pasado más de un lustro desde que David Rodríguez (Beef, Bach Is Dead) editase "Maracaibo" (Canada), su segundo disco; David comenzó su carrera hace más de 20 años, en las primeras bandas independientes que surgieron por aquí, para luego convertirse en productor de Los Punsetes, Soleá Morente, o la propia Bien Querida(donde además toca la guitarra), sin embargo, La Estrella de David es su trabajo más cuidado, más personal, y con él que podemos empezar a comprender al propio David.
El Primer Disco (2007, El Ejercito Rojo), y Maracaibo (2011, Canadá Editorial), se convirtieron en dos oasis decorados con canciones maravillosas, sobrias e irónicas, pero cargadas de drama enterrado y de emoción: al final David siempre ha sido un romántico, cantando al amor (o al desamor), y recorriendo su vida personal a partir de sus propias letras.
Ahora, tras unos años de espera, al fin se presenta "Consagración", su disco más ¿adulto?, ¿cuidado?, no lo creemos, pero sí él más producido y arreglado: más directo en el sonido (quizá más comercial), pero con las mismas canciones cargadas de burla, ternura y dolor. Al final, a David se le conoce personalmente por sus canciones, y ese es su regalo.
—
More than five years have passed since David Rodríguez (Beef, Bach Is Dead) released "Maracaibo" (Canada), his second album; David began his career more than 20 years ago, in the first independent bands that emerged in Spain, and then became a producer of Los Punsetes, Soleá Morente, or La Bien Querida (with whom he also plays guitar). However, La Estrella David's work is his more personal projecy, and with which we can begin to understand David himself.
"El Primer Disco" (2007, El Ejército Rojo), and "Maracaibo" (2011, Canada Editorial), represented two decorated oases including a set of wonderful, sober and ironic songs, but full of hidden drama and emotion: in the end, David has always been a romantic, singing to love (or heartbreak), and telling his personal story in his lyrics.
Now, after a few years of waiting, "Consecration" is finally presented, his most adult? record?, we don't think so, but surely the more carefully produced and arranged: more direct in sound (maybe more commercial), but with the same songs loaded with mockery, tenderness and pain. In the end, David is personally known for his songs, and that is his gift.