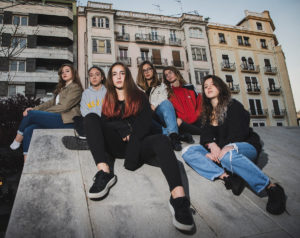 Por el Madrid Popfest han pasado algunos de los grupos legendarios del indiepop. Grupos de 30 años o más de carrera con una lista interminable de canciones míticas a sus espaldas. Pero todos los grupos tienen unos inicios y el Madrid Popfest siempre ha sido también un festival para dar oportunidad a esas bandas que están en sus inicios, talentos muy jóvenes que empiezan llenos de energía y frescura. Y ese es el caso de Las Dianas, un grupo en que la juventud y el talento saltan a la vista.
Las Dianas son seis chicas de menos de 20 años que vienen de Granada, donde ya han presentado su único disco hasta la fecha: un flexi de dos canciones editado por Discos Bora Bora en 2019. El nombre de las dianas remite al imaginario mod pero su música va más allá, es pop en mayúsculas que recorre la línea que va de Los Flechazos a Cariño o las Hinds. Tenemos muchas ganas de verlas por primera vez en Madrid.
—
Many legendary indiepop bands have been part of Madrid Popfest. Bands with careers of 30 years or more and with an endless list of classic songs behind them. But all bands have their beginnings and Madrid Popfest has always also been a festival to give opportunity to those bands, very young talents, full of energy and freshness. And that is the case of Las Dianas whose youth and talent are obvious.
Las Dianas are six girls in their teens from Granada, where they have already presented their only record to date: a two-song flexi released by Discos Bora Bora Records. The name of Las Dianas refers to the mod imaginary, but their music goes beyond, it is pop in capital letters . They are the line that connects Los Flechazos with Cariño or Hinds. We are looking forward to seeing them for the first time in Madrid.