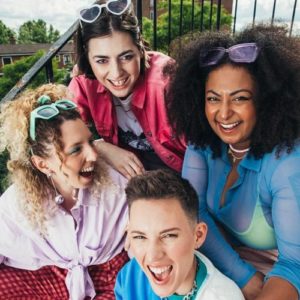 Al grupo de Londres Dream Nails les han puesto etiquetas como DYI punk, punk pop, riot grrrls, queercore, etc. Pero uno de los mensajes clave en sus canciones es precisamente luchar contra las etiquetas, en este caso de género. Y no sólo luchan contra las etiquetas e ideas preconcebidas de género, también contra otras injusticias, sociales, raciales, contra la misoginia y el machismo, por los derechos LGTBIQ+ o denunciando la catástrofe climática. Y lo hacen desde la rabia, pero también desde el humor y la positividad, creando himnos punk que puedes cantar a gritos y bailar.
Después de publicar varios singles y dos EPs, finalmente publican su primer disco homónimo en 2020 ("Dream Nails", Alcopop! Records), en el que intercalan las canciones con pequeños fragmentos que refuerzan el mensaje de sus canciones. Su directo será no solamente terriblemente divertido y arrollador, sino también inspirador.
—
The London band Dream Nails has been labelled as DYI punk, punk pop, riot grrrls, queercore, etc. But one of the key messages in their songs is precisely to fight against labels, in this case gender labels. And they not only fight against gender labels and preconceived ideas, but also against other social and racial injustices, against misogyny and sexism, for LGTBIQ+ rights or denouncing the climate catastrophe. And they do it with rage, but also with humour and positivity, creating punk anthems that you can sing along and dance to.
After releasing several singles and two EPs, they finally released their first self-titled album in 2020 («Dream Nails», Alcopop! Records), in which the songs are interspersed with short fragments that reinforce the message of their songs. Their live show will be not only terrifically fun and overwhelming, but also inspiring.